Certification Path for Scrum Masters
Great Scrum Masters have a well-developed interpersonal intelligence (an eye for team dynamics), excellent group-facilitation skills, broad (and often deep) experience with Agile Engineering practices and methods, and stubborn irritation with dysfunction.
When I consider the skills and experience I'd expect from a veteran Scrum Master and then think about how a person might attain those skills and experience, I imagine a path like the one illustrated here. I'd expect they'd have experienced excellent Scrum; they'd have explored and studied, perhaps even served, in all team roles; they'd have studied and perhaps experienced numerous complementary practices and frameworks; and they'd have studied and demonstrated their ability to lead teams and facilitate team interaction.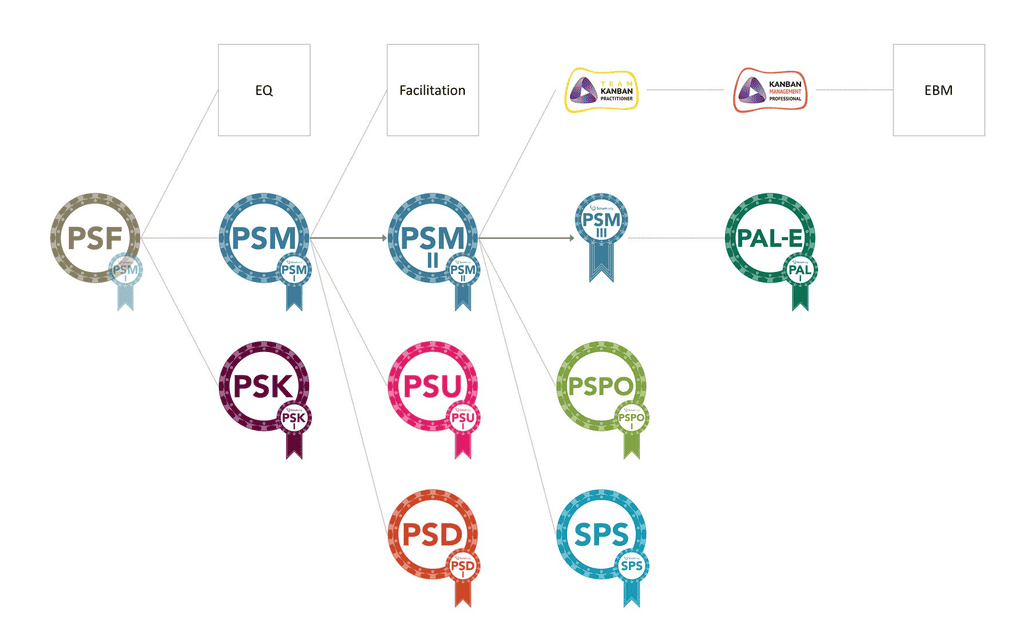 The training path depicted above mirrors that experience. For example, the Applysing Professional Scrum (APS) course is a crash-course in Iterative & Incremental Development with self-organizing teams, and is an incredible experience for Scrum Masters at any level. Then, a Scrum Master ought to examine all Scrum Team roles (PSM, PSD, PSPO), complementary frameworks (PSK, SPS, TKP), team leadership (PAL-E, KMP, EBM), and soft skills development (EQ, and facilitation: such as LEGO Serious Play, Training from the Back of the Room).
Certifications for Scrum Masters Explained
Core Scrum.org Courses
Core courses for Scrum Master are illustrated above along the main horizontal path (left to right).
Related Scrum.org Courses
Related courses are illustrated below the main horizontal path.
Related Courses (Beyond Scrum.org)
Recommended courses through other organizations (not Scrum.org) are illustrated above the main horizontal path.
---
All About Certification — A Blog Series: Table of Contents
This article is one part in a series I started in 2019 to address questions that I frequently receive about training courses and certifications.