Throwback Thursday: AgileQuestions 2011
Blast from the past!
On September 29, 2011, I posted the inaugural episode of my "Agile Questions" livestream. For the next 29 weeks, I would meet with my friend, Garry Berteig, to explore topics relating to Agile practices.
At the time, I lived and worked at a college in northwestern Canada. So, in the four years between 2007 (when I learned of Scrum) and 2011 (when I launched the livestream), I hadn't met many others who knew of Scrum, OpenAgile, Crystal Clear, DSDM, eXtreme Programming, etc. The weekly podcast would be the first I'd learn of the growing community in Ontario — and the first they'd learn of me!
The Bad News
When I moved to Ontario in 2012, Garry and I struggled to keep the show going. And the final nail in the coffin for our podcast came in 2013 when Vokle.com, the streaming platform we used, died.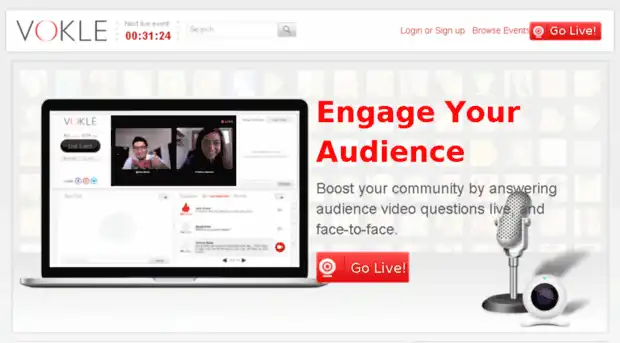 An aside, wearing my CTO hat:
Vokle.com (see the wikipedia article) launched in 2009 and was supported by investors including Imogen Heap and Tech Coast Angels. It was a remarkable platform and poised to grow in areas where Twitch and Restream now dominate.
What killed Vokle.com? We may never know. Its disappearance was never fully explained. It's as though the founders just walked away. I suspect Vokle's death knell was rung when Adobe announced the End of Life for Flash. And let's remember HTML5 was not well supported yet in 2013. The founders found themselves in a terrible position:
Considering Flash's life cycle, had Vokle.com been founded a few years earlier they may have had enough revenue and capital to afford a total rebuild of the platform.

Considering HTML5's life cycle, had Vokle.com been founded a few years later they could have taken full advantage of HTML5 audio/video APIs.
As it happened, Vokle.com didn't survive and all my video streams disappeared in 2013. 🥲
The Good News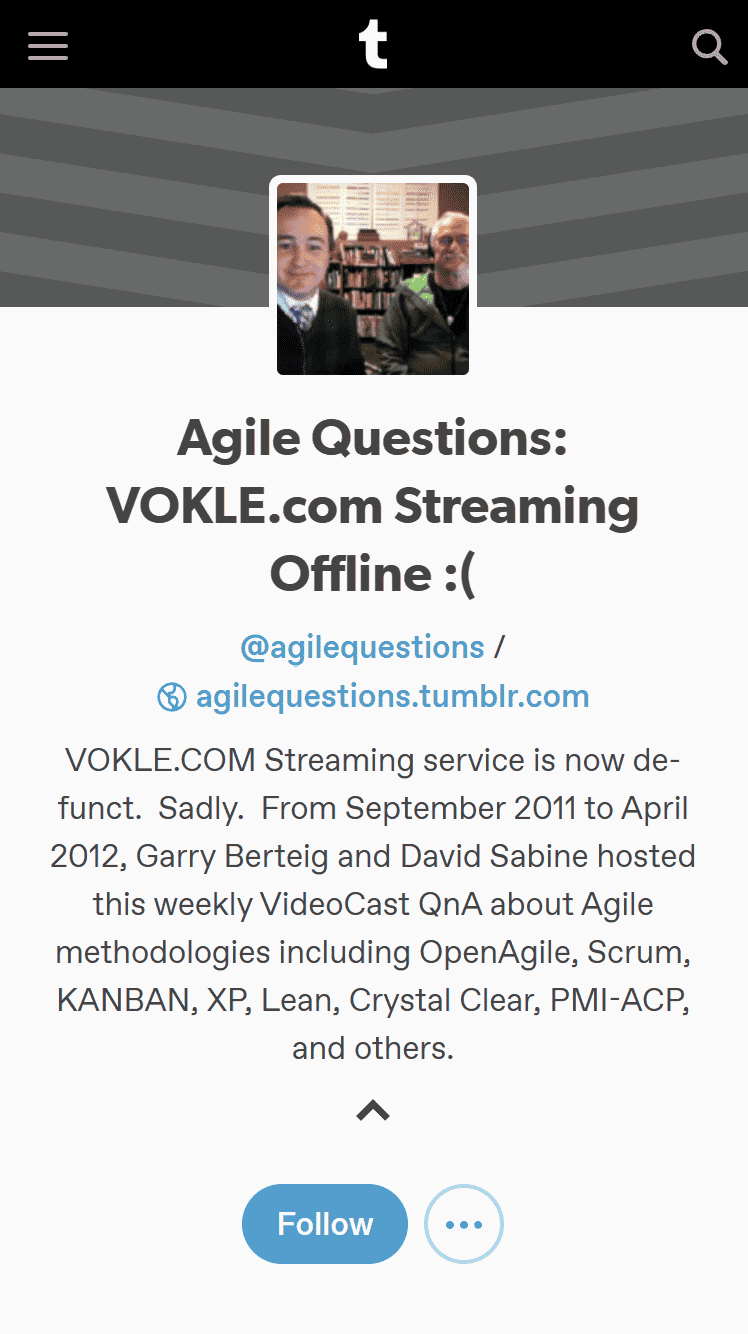 Every episode we recorded on Vokle.com was also embedded in one of my Tumblr feeds: agilequestions.tumblr.com. Here's Tumblr's archive all 29 episodes. Sadly, the videos were not archived, but the posts remain.
Lasting Relationships
Even in 2011, twelve years after Kent Beck's book (Extreme Programming Explained) and sixteen years after Scrum was introduced, it was rare to find others in Canada who knew of these practices.
Through Garry, I knew Mishkin Berteig in Ontario, and Mishkin knew a handful of others. So, whenever possible, I would ask guests to join the show. I was happy to meet (in order of appearance on the show):
Mike Caspar
Mark Levison
Mishkin Berteig
David Parker
Note to Self
Someday, perhaps I'll revisit my notes for each episode and see how my thinking has changed since then.